---
The world premier of a new documentary "An American Rebel: Steve McQueen" will be on March 17th at Downing Film Center in Newburgh,N.Y.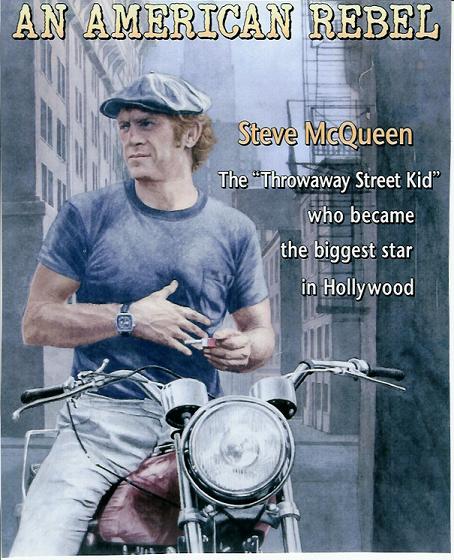 A Tribute to Steve McQueen
Saturday, March 17 from 4:30 'Til 9:30
Includes
• Red Carpet And Hollywood Lights
• Feature Film: BULLITT (1968)
• Wine and Cheese Reception
• World Premiere Documentary (2007):
AN AMERICAN REBEL: STEVE MCQUEEN
• Followed by a Q/A with Richard Martin, Director
With Personal Appearances also by: • Marshall Terrill, Author of PORTRAIT OF A REBEL-STEVE MCQUEEN
• Barbara Minty McQueen, Widow of Steve McQueen
(co-authors of STEVE MCQUEEN: THE LAST MILE)
Tickets: $25.00
Tickets Go on Sale on Thursday, March 1st.
Ed McCarthy of The Human Beinz writes:
"There will also be a premier party with Barbara McQueen, Marshall Terrill, Richard Martin (director/producer and friend of Steve McQueen.) Concert By The Human Beinz who song 'Nobody But Me " is featured in The Departed. They also have two new songs in the documentary McQ and Coyotes and Rattlesnakes. East Side Choppers has also built and incredible bike in honor of Steve's Great Escape Bike. Concert and party Info 845-778-2039 Film info 845-561-3686."
The After Premiere Party will be at:
EAST SIDE BAR AND GRILL
624 ROUTE 300
WALDEN, NY
The activities here include hors d'oeuvres, drinks – a concert by the HUMAN BEINZ, Capitol and Warner Bros. recording artists, featured on the soundtracks of AN AMERICAN REBEL: STEVE MCQUEEN and THE DEPARTED.
For info call Sam Torres at at the East Side Bar and Grill at 845.629.0803.

---
---