a2z Racer Gear has some spectacular officially licensed McQueen items (and lots of other stuff) on their website! Here's a just a sample of what you'll see at:

Steve McQueen Signature Le Mans Twill Racing Jacket

The 'Steve McQueen Jacket' as seen in the movie 'Le Mans'

An angled chest pocket with Steve McQueen's signature embroidered in place of the movie's 'Michael Delaney' and a zipper entry with loop pull to hold your sun glasses.

Elasticized knit cuff as the original jacket.

Back shoulder gussets for ease of driving.

Zippered side entry pockets and a zippered inside chest pocket.

The original patch configuration as licensed by Gulf (Chevron/Texaco), Heuer (Tag Heuer) and Firestone (Bridgestone / Firestone).

An American Flag on the left shoulder and the 'a2z Racer' crossed flag logo replacing the original 'Hinchman' crossed flag logo on the right shoulder.

McQueen Signature Le Mans Leather

Rugged, stylish leather jacket. All eyes will be on you when you put on this sleek and stylish jacket. It captures the essence of Le Mans, perfectly blending style and performance. An angled chest pocket with "licensed Steve McQueen's" signature embroidered in place of the movie's 'Michael Delaney' and a zipper entry with loop pull to hold your sun glasses.

100% Soft Napa Finished Cowhide Leather

Includes vintage Gulf™, Firestone™ and Chronograph Heuer™ embroidered patches.

Slant zipper chest pocket below authorized signature.

Front YKK™ zipper with extended tab.

Snap closure at neck and waist.

Under arm grommets for breathe ability.

YKK™ zipper closure on front entry pockets.

A right chest YKK™ zipper closure 'paddock pocket'.

Additional inside pocket with zipper closure.
TEAM GULF JACKET
a2z Racer is Proud to introduce this Unique Licensed Exclusive Team Gulf jacket. Steve McQueen shown wearing this officially licensed "TEAM GULF logo" jacket over his driving suit in the movie Le Mans. Also featured on the cover of Michael Keyser's / Jonathan Winters fantastic book : "French Kiss with Death" the making of "Le Mans" The Man- The Race-The Cars- The Movie. "
ALL WEATHER RUGGED NYLON (water resistant) JACKET WITH PLUSH PILE LINING in Gunmetal Blue as in the movie Le Mans.
This water resistant jacket features:
A hidden hood with adjustable draw string.

Deep, zippered chest pockets with flaps and zippered side entry pockets to keep everything dry.

Elasticized knit cuff keeps the warmth in and the wind out.

A flap pocket with pencil slot on the left sleeve and a zippered inside pocket.

Side elastic waist bands to keep the jacket snug to the body.
McQueen Signature Caps
100% Cotton, low profile caps with adjustable size tab. Features embroidered Porsche, #20 and Steve McQueen's Signature with Gulf Orange or Blue trim.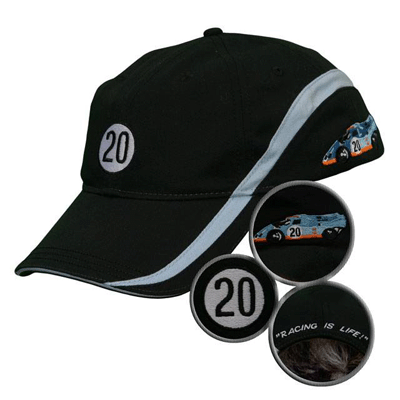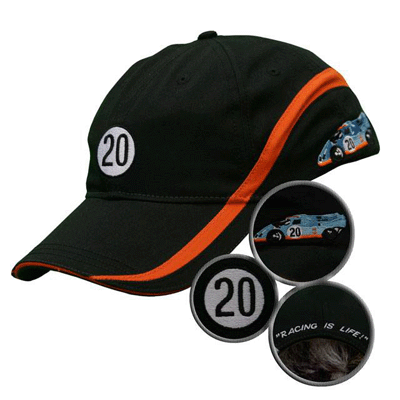 100% cotton twill cap with adjustable back tab.

Black with red 'Racing is Life' embroidery on front and 'Anything that happens before or after is just waiting' embroidered on back, along with Steve McQueen's signature.
(authorized use of Steve McQueen Signature.)
You'll also find some of the best racing posters around available on their website!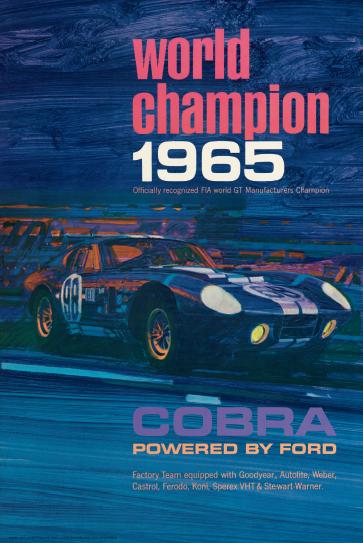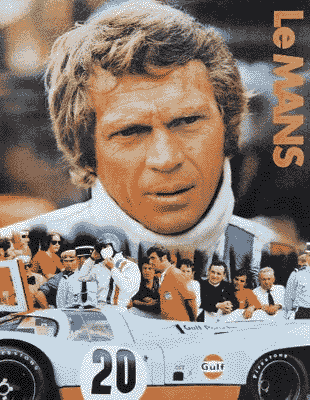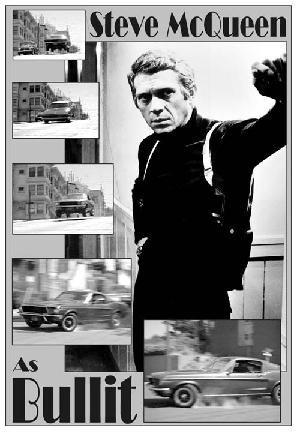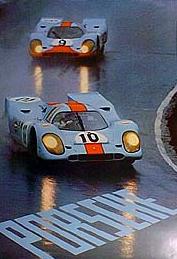 To order any of these items, and to see their other products, visit the a2zRacer gear website!
---
Johnson Motors, Inc.
McQueen t-shirts
Steve McQueen vintage jacket and racing sweater
Lots of other cool stuff for sale on their website! To visit, CLICK HERE!
(Thanks to Veronica Valdez for this link!)
---
(The following information was sent in by Ton Kool, from Amsterdam)
The exact replica of the racing jacket Steve McQueen wore in Le Mans (shown below) was made by the German firm DAKOTA. Only 500 were made and sold.
Ton writes, "The Dakota company then got sued by the Firestone tire company, who had not been asked permission to use their Firestone-logo on the jackets. So Firestone denied them their permission, demanding that all the jackets should be taken back or destroyed (!). Of course, the main part of those jackets had already been sold (at a European price of ± € 249,-), so that was nearly impossible. Anyway, permission was denied to Dakota."
The revised version (shown below) is also an exact replica with the exception of the Firestone logo, which has been replaced with the Dakota logo.
To visit the manufacturer's website, click HERE!
---
The famous Japanese action figure maker Toys McCoy has extended their merchandise. You can now wear Hilts sweater, shoes, kakis and flight jacket (Great Escape). Examples of items available:
| | | | |
| --- | --- | --- | --- |
| | Sweatshirt from The Great Escape | Replica jacket from The Great Escape | |
All items are meticulous remakes. To look at these items, (note: most of this site is in japanese and figuring out how to order is next to impossible) go to: http://www.toys-mccoy.com/store/index.html#mcqueen
The actual shoes worn in The Great Escape were Clarks Desert Boots, and they can be ordered at amazon.com by clicking HERE.
(Thanks to Paul Dezentjé for the information!)
---