---
(article from U.K. site-Skymovies.com)
McQueen is King of Cool
Steve McQueen has been voted the coolest celebrity ever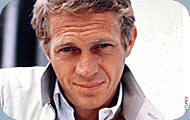 Movie legend Steve McQueen has been voted the king of cool in a celebrity poll.
The star of Bullitt and The Great Escape fought off the challenge of music giant Elvis Presley and boxing icon Muhammad Ali.
Godfather star Al Pacino was voted fourth coolest celebrity followed by Frank Sinatra with Taxi Driver and Raging Bull star Robert De Niro next.
Rebel Without A Cause star James Dean took seventh place with Audrey Hepburn and Christopher Walken filling the eighth and ninth places.
Altogether nine out of the ten top stars had featured in movies although for Presley and Sinatra their singing careers came first.
Summer Holiday star Cliff Richard led the list of uncool celebrities with Baywatch leading man David Hasselhoff in second place.
The poll was carried out by a lager firm.
AND FROM Mirror.co.uk:
McQueen Most Chilled Out Celeb
by Nathan Yates
HOLLYWOOD legend Steve McQueen has been voted the Coolest Celebrity of All Time.
The star of movie classics The Magnificent Seven and The Great Escape beat Elvis Presley and Muhammad Ali to the title.
Steve, who died in 1980 from lung cancer, has also been voted the coolest movie star in the Carling Extra Cold poll.
A spokesman said: "Steve embodies what are said to be the coolest attributes - he's strong, sexy and independent. But Elvis, Ali and Al Pacino ran him close."
Elvis and Ali did win their own awards, though, as coolest music and sport stars.
And Brit band Massive Attack won coolest band, while Elvis also topped the coolest song chart with Suspicious Minds, ahead of James Brown's Sex Machine and Walk on the Wild Side by Lou Reed.
The uncoolest celebrity is Cliff Richard, beating David Hasselhof, and TV presenter Keith Chegwin.
Gritty 70s cop drama The Sweeney was voted the coolest TV show, followed by two series featuring very different families - The Simpsons and The Sopranos.
Pop star Robbie Williams had a bit of a mixed bag. He's the 11th coolest music star, but also the 12th UNCOOLEST celeb.
---
---