---
PRESS RELEASE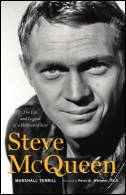 BARBARA MCQUEEN WILL ALSO BE ATTENDING THIS EVENT
Beech Grove Public Library 1102 Main Street Beech Grove, IN 46107 (Indianapolis, Indiana metropolitan area) Phone: 317-788-4203
McQueen biographer to appear in Beech Grove for discussion and book signing
BEECH GROVE, IND. (Oct. 7, 2010) – Steve McQueen's preeminent biographer is coming to Beech Grove to discuss the life, death and resurrection of the superstar almost 30 years after his passing.
Biographer Marshall Terrill will make a special visit to the Beech Grove Public Library, 1102 Main Street, Beech Grove, on Sunday, Oct. 31. His 2 p.m. appearance will include a power point presentation, question and answer session and the signing of his new book, Steve McQueen: The Life and Legend of a Hollywood Icon. Beech Grove native and McQueen enthusiast, Will Smither, will also appear as a guest speaker.
"I've been to numerous places throughout the United States and Mexico to conduct research on the life of Steve McQueen, but the one place I seemed to keep missing was Beech Grove, Indiana, the place where it all started," Terrill said. "I'm excited to see the hospital where McQueen was born and the home where he was raised."
Terrill credits Smither with finding key research on McQueen's birth and early life in Beech Grove. A non-certified birth certificate shows that McQueen was born in Marion County but the document does not provide the name of the hospital where he was born. Both men believe McQueen was born at St. Francis Hospital at 1600 Albany St. The hospital was built in 1914 and was a five-minute drive from the home of Victor and Lillian Crawford, McQueen's maternal grandparents, who owned a home in the Little Flower district. They raised their grandson until the age of three, and moved to Slater, Missouri, as a result of the Great Depression.
In December 1993, Terrill launched his literary career with Steve McQueen: Portrait of an American Rebel, an exhaustively researched biography that became an instant best-seller, has gone into four printings and was optioned as a feature film in 2009. His new book, Steve McQueen: The Life and Legacy of a Hollywood Icon is a 624-page biography which will be released in November, 2010 to commemorate the 30th anniversary of McQueen's death.
For more information, call the Beech Grove Public Library at (317) 788-4203 or visit www.bgpl.lib.in.us/
About Marshall Terrill:
Marshall Terrill is the world's foremost expert on Steve McQueen.

Author of the best-selling Steve McQueen: Portrait of an American Rebel, he has written or

co-written

biographies on McQueen, Elvis Presley, Pete Maravich, Ken Norton, and Edd Byrnes, among others.
--------------------------------------------------------------------------------------------------------------------------------------------------------
Marshall Terrill, author of probably the most reputable biography yet written on noted actor Steve McQueen, will visit the city of McQueen's birth—Beech Grove, Indiana—on Sunday, October 31, 2010, at 2 p.m., for a book-signing event involving both of his new books on the life of the Hoosier-born worldwide cultural icon.
Terrill will give a presentation on McQueen, including the Indiana connections of his life. The Library will also offer a presentation on, and a display of, its recently-established Steve McQueen Birthplace Collection.
The Collection is a combined reference library and 'museum' commemorating the fact of McQueen's being the most notable person to have been born within Beech Grove. In addition to a complete current collection of McQueen's television and motion-picture performances, and a compilation of biographies and other books about him, it contains possibly the largest publicly-viewable collection of memorabilia and information from what is considered the 'birth' of his performing career—his role as "Josh Randall" on the television Western show Wanted Dead Or Alive, which ran on CBS from 1958 to 1961. Among the memorabilia are such items as the 5 toy versions of the 'Mare's Leg' sawed-off rifle; the children's board game based on the series; 'action figures' and figurines; collector's cards from the U.S and overseas; and, various published items (comic books, a novel, and magazines).
Here is a link to the Beech Grove Public Library website, with Terrill's photo and information on the event:
http://www.bgpl.lib.in.us/AdminOnly/SteveMcQueen/tabid/592/Default.aspx
For further confirmation, the Library's contacts are:
Michele Patterson, Reference/Technical Services Librarian -- michele@bgpl.lib.in.us
Diane Burns, Director & Children's Librarian -- diane@bgpl.lib.in.us
Steve Nontell,
Volunteer/Event Chairperson
---
---