---
Santa Paula Airport hosts Steve McQueen events on December 6 & 7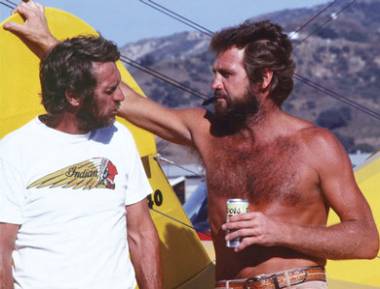 Steve McQueen and actor Lee Majors share a beer at the Santa Paula Airport, May 1979.
Steve McQueen's last hometown is paying tribute to its most famous resident with a weekend of aviation and family-related activities.
The Aviation Museum of Santa Paula will welcome home Barbara McQueen with a VIP reception, dinner and booksigning on Saturday, December 6 at the Santa Paula Airport. The 5 p.m. reception will include a catered dinner, slide show and booksigning for Steve McQueen: The Last Mile.
"Santa Paula was the beginning and end of Steve McQueen's aviation roots, and realized the airport had never recognized him before. Steve used to say, 'Santa Paula Airport is my kinda country club,'" said Mike Dewey, a museum board member who has a long history with the privately owned airport. "We also felt this was a good opportunity to promote our new 3,000-square foot museum headquarters."
This is Barbara McQueen's first trip back to Santa Paula since her late husband's 1980 death.
"Santa Paula was Steve's church and he really loved the city with all of his heart and soul. He was treated like a normal person there where he could relax and be himself, hang out with friends and fly his planes," McQueen said. "I'm really looking forward to coming back because it was a big part of my life. It'll be good to renew some of those old ties and make new friendships."
The tax-deductible (as allowed by law) dinner is $50 with proceeds benefiting the Aviation Museum of Santa Paula. Seating, however, is limited and attendees are asked to RSVP by December 1, 2008. Please call (805) 525-1109 or e-mail mcqueenevent@amszp.org to RSVP.
The Santa Paula Airport will salute the life of Steve McQueen on its "First Sunday Open House," on December 7. Privately owned hangars open their doors to unveil a variety of vintage aircraft, cars, and memorabilia, which are on display for the public from 10 a.m. to 3 p.m. Several other aircraft owners will put their antique aircraft on static display and many vintage aircraft also fly in each month. Car and motorcycle clubs will also display their machines on the airport's taxiways and the Museum Tram will provide travel between hangars. The Experimental Aircraft Association Chapter 723 offers free airplane rides to kids ages 7-17. Barbara McQueen will also sign, Steve McQueen: The Last Mile at the five-hour extravaganza.
Steve McQueen: The Last Mile is a photo book that captures wonderful and unique images that the very private actor allowed to no one else. Barbara soon discovered that the screen legend she had idolized since a kid was a determined individualist who loved vintage planes, motorcycles and cars and admired the men who flew and drove them above all others.
For more information on both McQueen events, visit www.amszp.org.
---
---