Steve McQueen
A Biography
Marc Eliot
Praise for James Stewart: A Biography
'A fine book on a wonderful life'
Total Film
'A blockbusting examination of the Hollywood legend and his films'
Film Review
Praise for Cary Grant: A Biography:
'Eliot is as good on the movies as he is on the man' Daily Telegraph
'A biography of the highest class: well-written, well-researched but, above all, original and intriguing' Glasgow Herald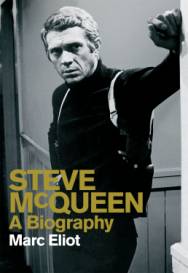 Steve McQueen is that rare Hollywood combination of a classic actor, and a style icon in the tradition of James Dean. 'The King of Cool', as he was dubbed, was at one time the highest-paid film star in the world, a status earned through his roles in films like The Magnificent Seven, Bullitt, The Thomas Crown Affair and The Great Escape. But he also turned down at least as many roles in classic films, including Breakfast at Tiffany's, Butch Cassidy and the Sundance Kid and The French Connection.
This is the first biography to cover in detail every film that McQueen made, and to put him into the context of the movie business, showing how he had problems trying to be a Method actor where contemporaries such as Clint Eastwood thrived at it, and how Eastwood understood the studio system and made it work for him, while an insecure McQueen struggled with his sense of himself, both on and off screen.
The book includes interviews with people who have never spoken about him before, and draws upon diaries in the private McQueen collection. It portrays a talented and charismatic but violent man, tormented by jealously, failed relationships and drug addiction.
Marc Eliot is the author of a number of film and music biographies, including Cary Grant: A Biography, James Stewart: A Biography and American Rebel: The Life of Clint Eastwood, all of which have been published by Aurum Press.