---
What kind of car did Steve McQueen drive in "Bullitt"?
He drove a 1968 GTA 390 Mustang Fastback, and the bad guys drove a 1968 440 Magnum Dodge Charger R/T.

---
How good was McQueen in the martial arts?
Steve McQueen's personal instructors included Bruce Lee and Chuck Norris. He was good enough to be a third degree black belt but never tested since he didn't want this used against him if he ever got sued for hitting someone. (Bruce Lee called himself the oriental Steve McQueen)
| | |
| --- | --- |
| | |
| Steve McQueen carrying Bruce Lee's casket | |
---
Which car race was it that McQueen drove with a broken left foot?
McQueen had broken his left foot in the Lake Elsinore Grand Prix riding a Motocross Husky, but continued the motorcycle race despite his injury and finished in the top ten. Soon afterwards, with his foot in a cast, he raced in the famous Sebring International Twelve Hour Endurance Race in Florida. His Porsche 908 Spyder was co-driven by Peter Revson. Steve McQueen's Porsche came in first in it's class and second overall, being beaten by a more powerful Ferarri driven by Mario Andretti in a close finish. Andretti later said,"This is the closest race I've run and I'm lucky to have taken it." McQueen told the press," We never expected to do anything against all those bigger machines. We were just trying for a class win, not the overall. This is fantastic...just fantastic!" (March1970)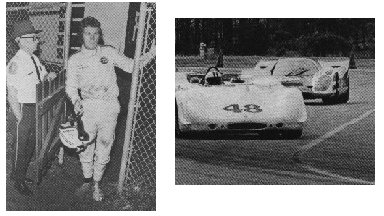 #48--McQueen driving at Sebring

---
What was Steve McQueen's home address?
His most famous home was at 27 Oakmont Drive, Brentwood, CA. Steve McQueen's house is up a narrow street, but it can't be seen. What you will see is a big wooden gate and a stone driveway.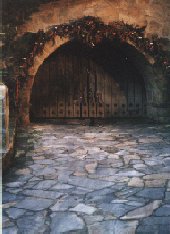 27 Oakmont Drive (gate)

---
What type of gun did Steve McQueen use in Wanted: Dead or Alive?
It was a Model 92 Winchester lever-action rifle with a modified stock and a sawed-off barrel.

---
Which issue of Sports Illustrated featured Steve McQueen on the cover?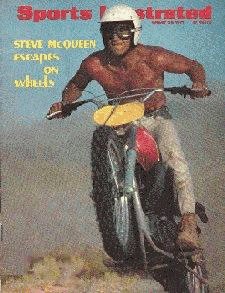 August 23,1971

---
What type of motorcycle did McQueen use when he was on the American team during the International Six-Day Trials in East Germany?
It was a 650-cc Triumph.

---
Which acting schools did Steve McQueen attend?
He went to the Neighborhood Playhouse, The Herbert-Bergoff Drama School (on a scholarship), and the Actors Studio (he was one of two people, out of 2000 applicants, who were accepted). They are all in New York and famous.

---
In the movie Tom Horn, Steve McQueen rode a beautiful horse. Could you tell me the name of the horse, and did McQueen perform some of the action scenes with the horse?
The horse's name was Buster and Steve McQueen did his own riding. The director of photography on Tom Horn said, "I've never seen anyone handle a horse better. He would get on Buster with a rifle and fire at full gallop. He was going as fast as the horse could go and he handled it beautifully."

---
PAGE 2 PAGE 3 PAGE 4 PAGE 5 PAGE 6 PAGE 7 PAGE 8
---
BOOKS MAGAZINES FILMS QUOTES BIO LINKS HOME
---