---
Estate Auction Catalogue from the November 1984 auction of Steve McQueen's possessions held at the Imperial Palace Hotel in Las Vegas. Recently sold on E-Bay for 102 dollars.
---
Wanted Dead or Alive tin target. Right hand corner has, 1959
Four Star Malcolm. The target shoot has Injun Joe, middle where it says
teller, if you hit it , it falls backwards. There is Black Bart, Josh
Randall, bottom, which is Steve McQueen.Measures 15 inches by 15.

Sold for 56.95 on Ebay
---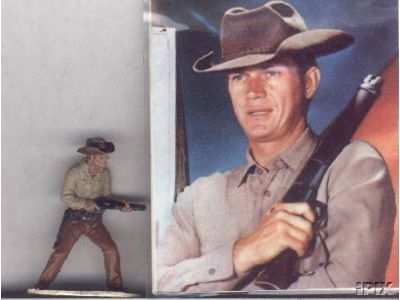 Josh Randall 54 mm Marx plastic figure made for a collectors
club that collected TV western characters in the late 60's.
Comes with plastic photo trading card. On the back of the
card is all the info on the show and character. Sold on
Ebay for 104 dollars.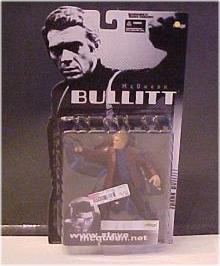 This is the new 6" Bullitt figure.
There's a 12" version due out in April 2003
---
PAGE 1 PAGE 2 PAGE 3 PAGE 4 PAGE 5
---