---
There are several watches that McQueen made popular. Here are the details:

Among wristwatch enthusiasts, Steve McQueen made three particular models famous: the Heuer Monaco, the Rolex Explorer II, and the Rolex Submariner. The Rolex Explorer II (ref. 1655), which was made in the 1970's and early 80's, is very collectable, rare, and referred to as the Steve McQueen Rolex. It is also called the Steve McQueen Explorer or a Freccione era Explorer, or the Steve McQueen Freccione

Dave McDermott gives the following details: "While it is technically correct that the 1655 Explorer II is often called the "Steve McQueen", it should be noted that there is no evidence to suggest that Steve McQueen ever owned or even wore a Rolex Explorer II. It is unclear exactly how this rumor started, but it has been accepted as false within the collecting community for a long time. However, the 1655 reference is still referred to as the Steve McQueen, but it is now done as an intentionally quirky misnomer rather than to indicate he owned the watch. It is also called the Freccione (meaning big arrow in Italian). This nickname seems to have come around as an intended replacement after the McQueen myth was shot down, but it turned out that instead of replacing it, both nicknames stuck. Confusing but true."
"McQueen's Rolex had a 1,8xx,xxx serial number, which would date it to around 1968/69 (earlier incorrect serial number record tables would have dated it to 65/66). The 5512 reference is distinguished from its visually identical sibling the 5513, by having a certified chronometer movement, which meant it was more accurate and was the more expensive of the two at the time. Some have posited that he had more than one of these watches, and he is believed to have given an identical Submariner to his friend, stuntman, and fellow racer Bud Ekins"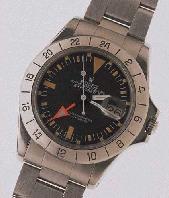 The model Steve McQueen wore in real life, also known as the Steve McQueen Rolex, is the Rolex Submariner, REF. 5512.